What to Look for When Choosing Your Getting Ready Location
No matter how organized you are, wedding planning can feel overwhelming as you start to realize how many decisions you have to make. Often times, choosing your getting ready location ends up being last on your list & the deciding factor often ends up being proximity to your venue &/or cost. But today I want to help take some stress off of you by giving you 3 things to look for when choosing your getting ready location.
Natural Light (aka BIG windows)
Most hotel rooms/getting ready locations are VERY dark. You're probably thinking, "well just turn on the lights then." But the thing that most people don't realize is that artificial light will cast a very yellow & unnatural tone. Natural light is the most flattering on skin tones & is MUCH softer. Therefore if at all possible, I will keep all of the lights off & use whatever natural light is available.
White Walls
White walls provide a clean & simple backdrop for your photos. By keeping the background simple, the focus remains on YOU rather than the distracting elements surrounding you. White walls also serve as a natural reflector which will help bounce light, thus more evenly illuminating your images.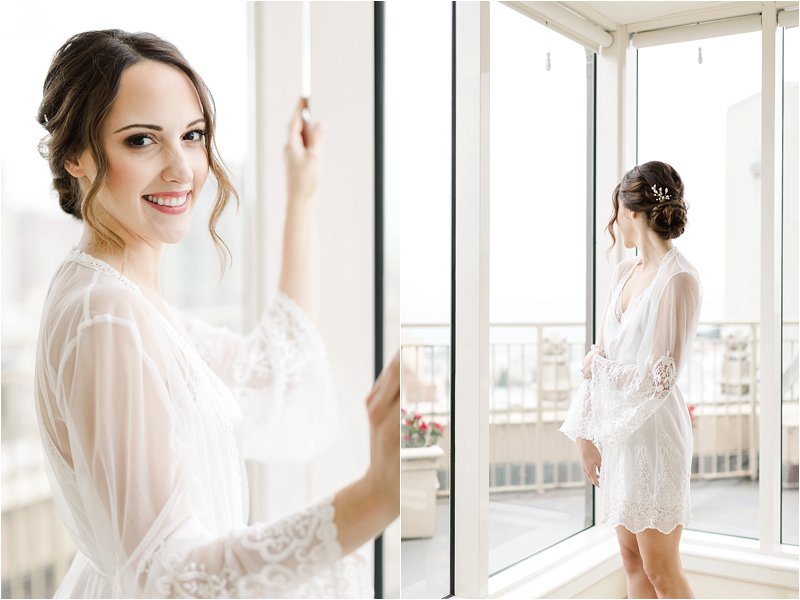 Separate Spaces
It's always helpful if you're able to find a space that has a few separate rooms. This way all of the luggage, dresses, makeup, shoes, accessories, robes, etc. can be tucked away in one room (whichever one has the least amount of natural light) while the other room remains clean & photo ready.